---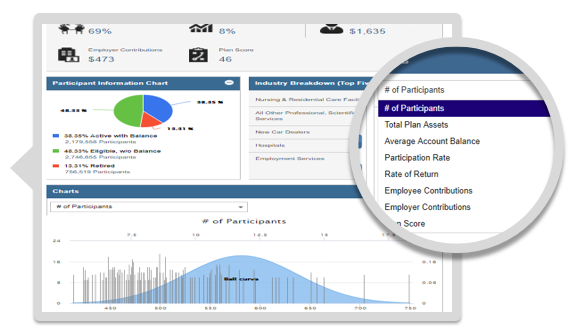 Free Plan Data. Free Prospecting Tools. FreeERISA.
Zip code search: Find employee benefit and retirement plan filings by location.
Dynamic name search: Find 5500s even if the plan sponsor's name changed.
Instant View: See benefit filings right in your browser instantly.
Deluxe Search: Add more search tools plus access to 5310s and Top Hat filings for just $59.95.
Customer Service: Call or email us with questions.
The greatest prospecting data on employee benefits at the lowest cost:
NUMBER OF PLANS
2.6 million Employee Retirement Income Security Act (ERISA) Form 5500s, covering 1.3 million plans and 1 million plan sponsors.
TYPES OF PLANS
Group benefits plans, including 401K, pension, life, and health plans.
TYPES OF DATA
ERISA Form 5500 filings include company contact information, plan renewal dates, plan financial data, information about service providers and carriers, as well as other related information.
The Premier Employee Benefits Data Resource on the Web
FreeERISA: free Form 5500 database
FreeERISA.com provides free access to all form 5500s filed with the Department of Labor over the past two years, which include data on retirement, health, life, and other benefits plans from more than 1 million U.S. companies. Since our launch in 1999, our users have come to us for critical information about existing employee benefits plans to identify prospective clients and opportunities. Our 625,000 registered users represent a range of markets, including financial planning, insurance, legal, and business consulting.
Sign up for free

QUICK FACTS
2.6 million Employee Retirement Income Security Act (ERISA) form 5500s, covering:
1.3 million plans (Plan Types: Retirement, Health, Life, Other Benefits)
1 million plan sponsors
Data includes:
Sponsor contacts
Plan renewal dates
Retirement plan financial breakdowns
Insurance policy details
Service providers, carriers and brokers
DFE/Participating plan information
Read More About FreeERISA

Why FreeERISA.com?
Financial planners: Grow your business by locating plans in your area.
Insurance professionals: Find companies that might be interested in your products.
Legal professionals: Review government filings pertaining to companies' employee benefits plans.
Business consultants: Compare your clients' employee benefits plans to their peers to identify improvements and cost-saving opportunities.
Access FreeERISA

FreeERISA offers 3 levels of access:
Deluxe

Identify Leads
Current Form 5500s, Top Hats and Form 5310 Filings
Search by Company Name, State or ZIP
Filter by Plan Type, Total Assets, Total Participants, or Has the plan filed a 5310
Search by companies with potential rollovers
Look up Non-Qualified Deferred Compensation Plans
Narrow your search using 500+ searchable data elements
Red Flags of Plan Performance
Export Capabilities
Detailed Plan Financials
Close Leads
Contact Information
Report Generation
Plan Score Card

(National, State, Industry, Plan Size)
Performance-based Benchmarking
Pre-generated Talking Points
Dynamic Marketing Letters
Strategic Analysis
Map-based Insights
Industry Plan Research & Analysis
SIGN UP
SIGN UP
LEARN MORE