---
Easily find 401(k) and pension leads with advanced filtering and analytical tools.
Monthly billing starting at $69 a month*
*12 month annual commitment
Retirement Plan Prospector+ empowers you to:

Focus on the Right Leads
Access 800,000+ retirement plans using 500+ advanced search fields. Prioritize leads with Red Flags and detailed Plan Financials and other prospect strength indicators.

Win New Business
Impress plan decision-makers with Plan Score Cards and customized analysis. Propose personalized solutions to prospective clients using dynamic talking points and performance-based benchmarking.

Implement Proven Strategies
We've embedded best practices into every aspect of Prospector+, from the Recommended Prospects and graphic-rich Report Builder to Industry Plan Researches and Analysis. Let us guide your business to winning prospects.
Powerful Tools to Prospect, Analyze and Close Leads
Identify Leads
Employers often consider changing their retirement advisors because their plans experience shortcomings or evolving needs. We've learned from our most successful clients how to recognize these signs and designed Retirement Plan Prospector+ to help you take advantage of these precursors to change:
Red Flags: over a dozen plan characteristics that indicate possible problems in a plan's design or administration.
Plan Score Card: evaluate a plan's design and performance against other plans in the country, state, same industry or with similar asset levels or participant counts.
Detailed Plan Financials: find out how a plan's performance has changed for key metrics in the past one, three and five years.
CRM-Friendly Export: upload any of our plan data and contact information into your other databases smoothly.
Start your free trial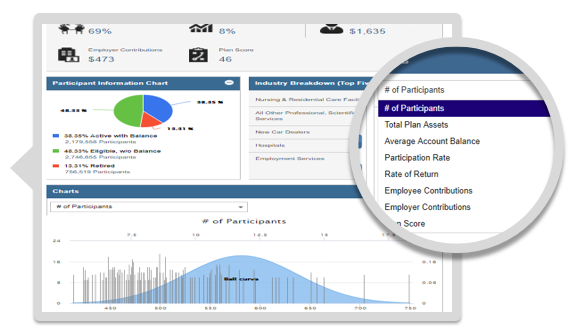 Close Leads
We help you close your retirement leads by telling the right story with these features, accessible in Prospector+:
Advanced Plan Score Cards: evaluate a plan's design and performance against other plans by state, industry, with similar asset levels or participant counts.
Performance-based Benchmarking: benchmark a plan sponsor against custom peer groups and analyze how well it's doing across different metrics.
Pre-generated Talking Points: plain English description of how to address identified issues (Plan design, administration or performance) with the plan sponsor.
Dynamic Marketing Letters: dozen professionally written approach letters, dynamically pulling relevant data.
Graphic-Rich Report Builder: be prepared for your next client meeting in seconds.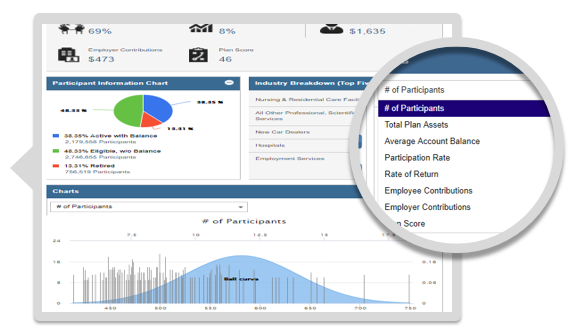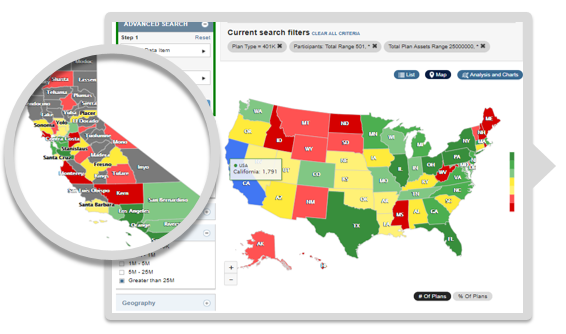 Strategic Analysis
Bold new search tools make finding the right prospects quick and easy.
Map-Based Insights: graph results on a map of the US, or an individual state, uncovering national and regional trends
Industry Plan Research & Analysis: Real time search results data analysis, calculating the median values across several key metrics of plan performance
View Packages & Pricing

Learn More About Retirement Plan Prospector+
Request a Free Trial
Empower your team with comprehensive 401k and pension plan lead generation and analysis.
Find out if Retirement Plan Prospector+ is the right solution for your team's lead generation and plan analysis needs.
You should receive your username and password via email within a few minutes of submitting this form. If not, give us a call at 800-231-0669, option 4 or email [email protected] .
---