Visibility into brokers' client lists and market share – built for the way you work.
Always know your competitive position:
The science behind BCMS creates the only accurate source for broker and carrier relationships.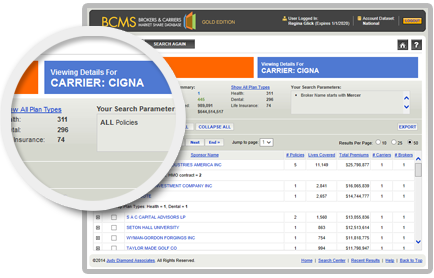 Broker Plan Matching Technology
Our exclusive and rigorous cleansing process matches plans to brokers and agents, even when the 5500s don't. No other 5500 database will provide as much relationship detail between carriers, brokers and plan sponsors. That's why BCMS is the tool used by 85% of the largest carriers to identify and recruit the best brokers.
---
Broker and Carrier Name Standardization
Whether the carrier is listed on the 5500 as M3tlife, Metropolitan Life Company, Metropolitan Life, or another common alternate, it will show up in a search for "Metlife" in BCMS. Only with our rigorous focus on data normalization can you trust the accuracy of market share calculations and client lists.
Learn More

---
Broker Commission and Premium Modelling
Find uniquely precise calculations for individual brokers' commissions with our time-tested commission calculation model.
Superior quality. Exclusive data. Robust tools.
Judy Diamond Associates data powers the sales and marketing engines of 17 of the top 20 group benefits carriers.
Boost your team with comprehensive benefits plan lead generation and analysis.
Request a Free Trial
Find out if the Brokers and Carriers Market Share Database is the right solution for your team's broker recruitment and competitive research needs.
Each free trial includes access to data from the State of Kentucky. To request a different selection for your own trial, give us a call at 800-231-0669, option 1.
You should receive your username and password via email within a few minutes of submitting this form. If not, give us a call at 800-231-0669, option 4 or email [email protected].
---
View Packages & Pricing
See our Packages & Pricing or Order Now pages to subscribe today.